In 2013, the United States Preventative Services Task Force (USPSTF) released a recommendation for annual lung cancer screening with low-dose chest CT (LDCT) in individuals ages 55-80 years of age with a heavy smoking history.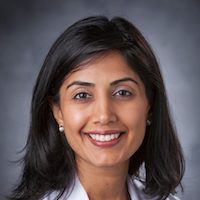 Lung cancer screening with LDCT is the only effective screening test for lung cancer, allowing lung cancer to be detected earlier at a potentially curable stage. Dr. Tina Tailor and her research collaborators have sought to better understand utilization of lung cancer screening by patients and providers in hopes of identifying social, health, hospital, and other factors that impact lung cancer screening uptake.
In one recent analysis, Dr. Tailor's group utilized large population datasets, including data from Medicare claims, US Census Bureau, American College of Radiology, and electronic health records to study factors influencing lung cancer screening use. Their work to date has shown that the adoption of lung cancer screening has been slow. The data also suggests disparities in lung cancer screening with underutilization of screening services among some minority populations (African American and Hispanic).
Dr. Tailor's research has also identified geographic barriers to lung cancer screening access for certain vulnerable populations, including those without insurance, Medicaid, and of lower education attainment. This work has led to subsequent multi-institutional collaborations across other medical centers in North Carolina, as well as collaborations with Duke Cancer Institute's Lung Cancer Screening Program to evaluate screening use across the state of North Carolina to better understand barriers to screening. Once barriers to screening are identified, physicians can work toward implementation strategies to ensure that lung cancer screening services are available to all at risk patients who may benefit from this life-saving service.