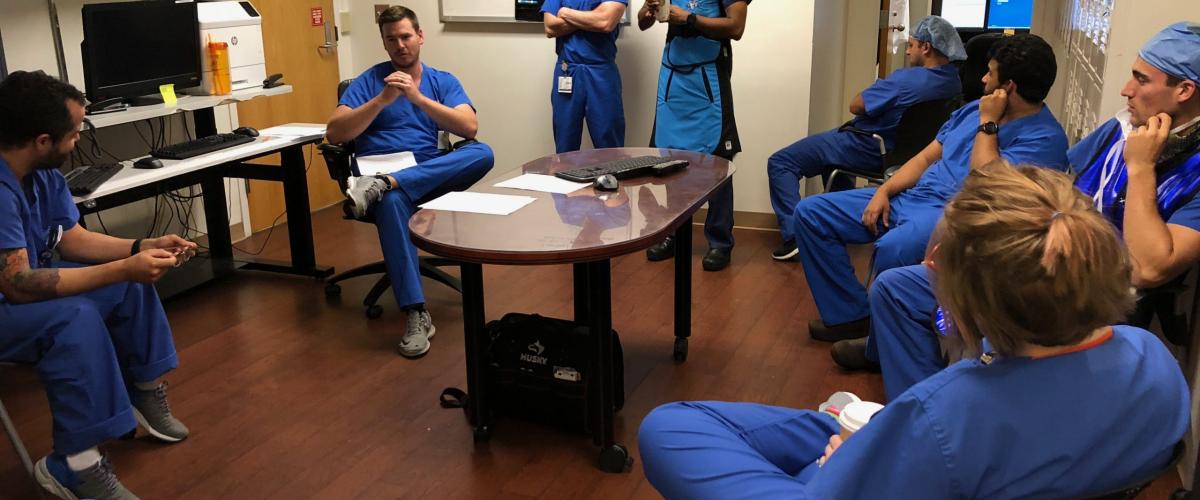 The Department of Radiology has a wealth of mentors who eagerly help medical students explore careers in radiology as well as their third year research projects.
Students are encouraged and welcomed to shadow for a few hours during the day in the department; please just come and have a seat in one of the reading rooms located on the 1st floor of Duke University Hospital, North.
Listed below are our approved mentors and the study programs that they support. Please note, that doing research with one of our mentors is not a prerequisite for matching into radiology. Some students may choose to study away for their third year. Duke Students who have not conducted a radiology research project have successfully matched into radiology programs.
To prepare for your research project, please review the requirements on the Duke School of Medicine Third Year website. Please contact Dr. Joseph Lo to discuss current projects and available mentors for students considering research in radiology.
If you would like to work with a Radiology faculty member who is not an approved mentor, either clinical or research, please contact:
Sherry Burton
Duke University School of Medicine
Office of Curricular Affairs
(919) 684-0859
RADIOLOGY APPROVED RESEARCH MENTORS
Jay A. Baker, M.D.
Radiology, Radiation Oncology, and Medical Physics
Epidemiology and Public Health Study Program
Michael J. Campa, Ph.D.
Radiology, Radiation Oncology, and Medical Physics)
H. Cecil Charles, Ph.D.
Radiology, Radiation Oncology, and Medical Physics
Bastiaan Driehuys, Ph.D.
Radiology, Radiation Oncology, and Medical Physics
Donald P. Frush, M.D.
Radiology, Radiation Oncology, and Medical Physics
Rajan T. Gupta, M.D.
Radiology, Radiation Oncology, and Medical Physics
G. Allan Johnson, Ph.D.
Radiology, Radiation Oncology, and Medical Physics
Charles Y. Kim, M.D.
Radiology, Radiation Oncology, and Medical Physics
Christopher D. Lascola, M.D., Ph.D.
Neurosciences Study Program
Joseph Lo, Ph.D.
Radiology, Radiation Oncology, and Medical Physics
Epidemiology and Public Health Study Program
James MacFall, Ph.D.
Radiology, Radiation Oncology, and Medical Physics
Jon Martin, M.D.
Radiology, Radiation Oncology, and Medical Physics
Rendon C. Nelson, M.D., FACR
Radiology, Radiation Oncology, and Medical Physics
Edward F. Patz Jr., M.D.
Radiology, Radiation Oncology, and Medical Physics
Epidemiology and Public Health Study Program
Oncological Sciences Track
Regenerative Medicine Track
Translational Pharmacology Track
Jeffrey R. Petrella, M.D.
Behavioral Neurosciences Study Program
Radiology, Radiation Oncology, and Medical Physics
Neurosciences Study Program
James M. Provenzale, M.D.,FACR
Radiology, Radiation Oncology, and Medical Physics Neurosciences Study Program
Ehsan Samei, Ph.D., M.E.
Radiology, Radiation Oncology, and Medical Physics
Martin Tornai, Ph.D.
Radiology, Radiation Oncology, and Medical Physics
Timothy Turkington, Ph.D.
Radiology, Radiation Oncology, and Medical Physics
Terry Yoshizumi, Ph.D.
Radiology, Radiation Oncology, and Medical Physics