DUKE 3/2 RESEARCH OPPORTUNITIES
Duke Radiology residents are provided academic half days every other week during their 1st year.  Residents are matched with research mentors and projects at the beginning of the year and are guided through their scholarly activity through a series of workshops facilitated by experts in the field.
Residents who wish to pursue additional research in the 2nd and 3rd year of residency may apply for additional academic time in the spring of their 1st year.  Residents who are approved for additional time based on the merit of their proposal are provided one academic day a month in their 2nd year and a contiguous month of research in their 3rd year.
Up to 9 months of dedicated academic time may be allotted in the 4th year of residency. Residents are encouraged to use this time to follow their intellectual passions. In addition to hypothesis-driven research, Duke Residents have written books, created educational websites, and pursued global health imaging projects. Department seed grants are available to support these resident research projects.
DUKE R38 RESEARCH PATHWAY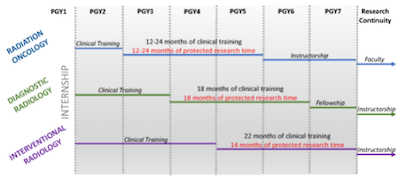 The Departments of Radiology and Radiation Oncology are pleased to offer the new Duke R38 Research Pathway for residents committed to a career as a physician investigator. This NIH-funded opportunity provides 18 months of protected research time sponsored by a R38 Stimulating Access to Research in Residency (StARR) grant.
Diagnostic Radiology Resident-Investigators will complete an internship (PGY1) before starting diagnostic radiology residency (PGY2-PGY6). PGY2-3 will consist solely of clinical rotations. During PGY-3, the Resident-Investigator will identify a Preceptor. PGY4-6 will then consist of 18 months of clinical rotations and 18 months of protected research time, to be completed in blocks of at least 6 months long each. At the conclusion of residency training, successful ROR StARR Resident-Investigators will be guaranteed a 1-year subspecialty fellowship of their choice that will include research time. In addition, following the 1-year fellowship, participants in the program will have the opportunity to remain at Duke for a research-intense mentored instructorship in Radiology. This will allow ROR StARR Diagnostic Radiology Resident-Investigators research continuity throughout training and the establishment of their independent careers.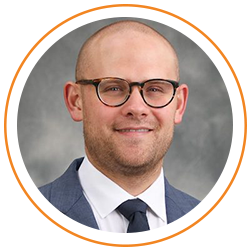 Chauncy Handran, M.D.
Class of 2020
"I have had a somewhat unique research experience while at Duke with limited research time given clinical demands related to ESIR. However, I was still able to acquire a $20k grant from the Gastroenterology department during my 2nd year of residency for research on a new treatment for hepatic encephalopathy, for which I teamed up with the biomedical engineering department. "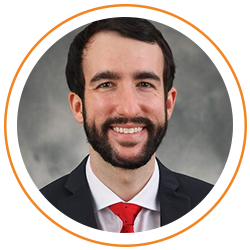 John Knight II, M.D.
Class of 2020
"My 3/2 project is a survey study in Breast Imaging that evaluates the perceptions patients have when reading radiology reports. The 3/2 infrastructure helped me find the resources and mentorship to get the project off the ground. I chose to use the remainder of my fourth year elective time to do a mini-fellowship in Cardiothoracic Imaging."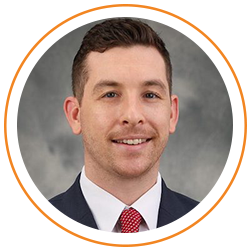 Colm Kelleher, M.D.
Class of 2020
"I did not do a traditional 3/2 project. I spent the year completing a 16-month Dual Certification Pathway in Diagnostic Radiology and Nuclear Medicine. Next year I will be doing an additional fellowship in Abdominal Imaging. I believe this combination will give me a unique experience in oncologic radiology."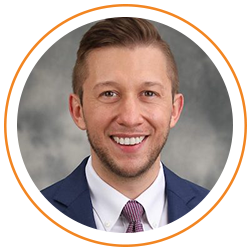 Kyle Napier, M.D.
Class of 2020
"I loved the freedom of the 3/2 program. I focused entirely on clinical work including a 6-month mini-fellowship in Abdominal Imaging. The added experience on MRI and procedures was invaluable for my learning. It was so rewarding to work with the same group of people day in and day out. It truly felt like a family."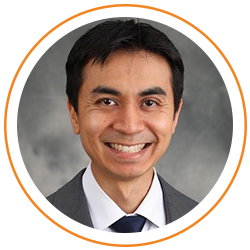 Lawrence Ngo, M.D., Ph.D.
Class of 2020
"I have been working with Mustafa Bashir in developing AI algorithms for several applications in body imaging. We are now beginning a new phase of research involving Duke and several other universities, private practice groups, and my company to validate our AI tools. I have learned a lot in coordinating collaborations among all these entities." 
DUKE RADIOLOGY RESIDENT PUBLICATIONS, PRESENTATIONS, AND AWARDS
We are incredibly proud of our resident's research. Recent Duke Radiology graduates have won multiple prestigious awards.
2018 Louis A. Gilula, MD Mentor Award from the American Society of Spine Radiology
2018 Lauterbur Award for Best MRI Abstract from the Society of Advanced Body Imaging
RSNA Alexander Margulis Award for Scientific Excellence
RSNA Trainee Research Prizes
ARRS Executive Council Award
AAWR Member-in-Training Award for Outstanding ARRS Presentation
The Roentgen Resident Research Award
The American Society of Head and Neck Radiology Radiologist-in-Training Award
The American Society of Head and Neck Radiology Hanafee Research Grant
The 2015 RSNA Alexander Margulis Award for Scientific Excellence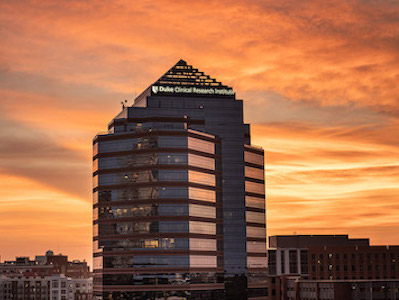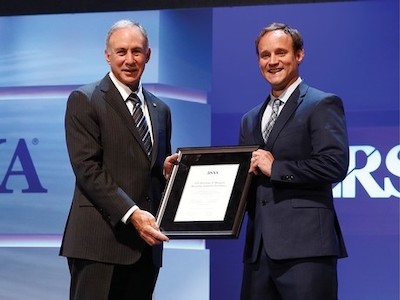 RECENT PUBLICATIONS AND PRESENTATIONS
Rose DK, Chamberlain L, Ashton J, Yaghi S, Hauck EF, Mac Grory B. Moyamoya syndrome in a young person with Down syndrome: diagnostic and therapeutic considerations. BMJ Case Rep. 2022 Mar 4;15(3):e246168. doi: 10.1136/bcr-2021-246168. PMID: 35246432 
DeFreitas MR, McAdams HP, Azfar Ali H, Iranmanesh AM, Chalian H. Complications of Lung Transplantation: Update on Imaging Manifestations and Management. Radiol Cardiothorac Imaging. 2021 Aug 26;3(4):e190252. doi: 10.1148/ryct.2021190252. PMID: 34505059; PMCID: PMC8424694.
Goodwin JS, Tsai LL, Mwin D, Coutinho de Souza P, Dialani S, Moon JT, Zhang Z, Grant AK, Ahmed M. In vivo detection of distal tumor glycolytic flux stimulated by hepatic ablation in a breast cancer model using hyperpolarized 13 C MRI. Magn Reson Imaging Jul;80:90-97. 
PMID: 33901585
Wu V, Li MD, Goodwin JS, Wehrenberg-Klee EP, Zurkiya O, Kalva SP, Ganguli S. Yttrium-90 Hepatic Radioembolization for Advanced Chemorefractory Metastatic Colorectal Cancer: Survival Outcomes Based on Right- Versus Left-Sided Primary Tumor Location. AJR Am J Roentgenol. 2021 Nov;217(5):1141-1152. PMID: 33594907
Fogler B, Al Tarhuni M, Goodwin S, Henry T. "Anti-MDA-5 Associated Rapidly Progressive Interstitial Lung Disease." Chest Case of the Day. 2021 RSNA Annual Meeting, Chicago, IL.
Houk JL, Amrhein TJ, Gray L, Malinzak MD, Kranz PG. Differentiation of Chiari malformation type 1 and spontaneous intracranial hypotension using objective measurements of midbrain sagging. J Neurosurg. 2021 Oct 29:1-8. doi: 10.3171/2021.6.JNS211010. Epub ahead of print. PMID: 34715671.
Shawn S, Mutasa S, Liu MZ, Nemer J, Sun M, Siddique M, Desperito M, Jambawalikar S, Ha RS. Deep Learning Prediction of Axillary Lymph Node Status using Ultrasound Images. Computers in Biology and Medicine. Jan 2022; 143:105250. PMID: 35114444
Schmid RK, Johnstone CA, Robbins JR. Palliative radiation for bone metastases from hepatocellular carcinoma: practice patterns and the amount of remaining life spent receiving treatment. Ann Palliat Med. 2022 Jun;11(6):1900-1910. doi: 10.21037/apm-21-2657. Epub 2022 Jan 26. PMID: 35144390.
Zhang M, Wong SW, Wright JN, Wagner MW, Toescu S, Han M, Tam LT, Zhou Q, Ahmadian SS, Shpanskaya K, Lummus S, Lai H, Eghbal A, Radmanesh A, Nemelka J, Harward S 2nd, Malinzak M, Laughlin S, Perreault S, Braun KRM, Lober RM, Cho YJ, Ertl-Wagner B, Ho CY, Mankad K, Vogel H, Cheshier SH, Jacques TS, Aquilina K, Fisher PG, Taylor M, Poussaint T, Vitanza NA, Grant GA, Pfister S, Thompson E, Jaju A, Ramaswamy V, Yeom KW. MRI Radiogenomics of Pediatric Medulloblastoma: A Multicenter Study. Radiology. 2022 Aug;304(2):406-416. doi: 10.1148/radiol.212137. Epub 2022 Apr 19. PMID: 35438562; PMCID: PMC9340239. PMID: 35438562
Shen L, Zheng J, Lee EH, Shpanskaya K, McKenna ES, Atluri MG, Plasto D, Mitchell C, Lai LM, Guimaraes CV, Dahmoush H, Chueh J, Halabi SS, Pauly JM, Xing L, Lu Q, Oztekin O, Kline-Fath BM, Yeom KW. Attention-guided deep learning for gestational age prediction using fetal brain MRI. Sci Rep. 2022 Jan 26;12(1):1408. doi: 10.1038/s41598-022-05468-5. PMID: 35082346; PMCID: PMC8791965.
Moon P, Theruvath J, Chang J, Song Y, Shpanskaya K, Maleki M, Cheng AG, Ahmad IN, Yeom KW. MRI Correlates of Ototoxicity in the Auditory Pathway in Children Treated for Medulloblastoma. Otol Neurotol. 2022 Jan 1;43(1):e97-e104. Doi: 10.1097/MAO.0000000000003336. PMID: 34739428.
Ho LM, Pendse AA, Ronald J, Desai H, Dai R, Ziegler C, Nelson RC, Wildman-Tobriner B.
Comparison of clinical efficacy, subjective user experience, and safety for two different core biopsy needles, the Achieve® and Marquee®. Abdom Radiol (NY) 2022 Aug;47(8):2632-2639
PMID: 34181039
Toronka A, DeFreitas M, Konkel B, Nedrud M, Zaki IH, Valentine A, Cubberley A, Yin F, Bashir MR, Lafata KJ. Multi-domain statistical modeling of sarcopenia-related adverse outcomes in patients with gastric and esophageal adenocarcinoma. American Association of Physicists in Medicine Spring Clinical Meeting, April 2021.  
Ho LM, Pendse AA, Ronald J, Desai H, Dai R, Ziegler C, Nelson RC, Wildman-Tobriner B. Comparison of clinical efficacy, subjective user experience, and safety for two different core biopsy needles, the Achieve® and Marquee®. Abdom Radiol (NY). 2021 Jun 28. doi: 10.1007/s00261-021-03187-5. Epub ahead of print. PMID: 34181039. 
Percac-Lima S, Ashburner JM, Enogieru I, Ho JJ, Mitton J, Richter JM, He W, Whited EC, Atlas SJ. Timeliness of Surveillance Colonoscopy in Underserved Populations: Association with Patient Navigation for Initial Screening Colonoscopy. J Health Care Poor Underserved. 2021;32(2):712-723. doi: 10.1353/hpu.2021.0100. PMID: 34120972 
Kranz PG, Gray L, Malinzak MD, Houk JL, Kim DK, Amrhein TJ. CSF-Venous Fistulas: Anatomy and Diagnostic Imaging. AJR Am J Roentgenol. 2021 Jun 30. doi: 10.2214/AJR.21.26182. Epub ahead of print. PMID: 34191547. 
Maheswaranathan M, Houk JL, Range DE, Rogers J. Clinical Image: Pseudogout of the temporomandibular joint. ACR Open Rheumatol. 2021 Jul;3(7):464-465. doi: 10.1002/acr2.11268. Epub 2021 Jun 4. PMID: 34085778; PMCID: PMC8281047. 
Lacy T, Ding A, Minkemeyer V, Frush D, Samei E. Patient-based Performance Assessment for Pediatric Abdominal CT: An Automated Monitoring System Based on Lesion Detectability and Radiation Dose. Acad Radiol. 2021 Feb;28(2):217-224. doi: 10.1016/j.acra.2020.01.018. Epub 2020 Feb 13. PMID: 32063494. 
Williams WB, Meyerhoff RR, Edwards RJ, Li H, Manne K, Nicely NI, Henderson R, Zhou Y, Janowska K, Mansouri K, Gobeil S, Evangelous T, Hora B, Berry M, Abuahmad AY, Sprenz J, Deyton M, Stalls V, Kopp M, Hsu AL, Borgnia MJ, Stewart-Jones GBE, Lee MS, Bronkema N, Moody MA, Wiehe K, Bradley T, Alam SM, Parks RJ, Foulger A, Oguin T, Sempowski GD, Bonsignori M, LaBranche CC, Montefiori DC, Seaman M, Santra S, Perfect J, Francica JR, Lynn GM, Aussedat B, Walkowicz WE, Laga R, Kelsoe G, Saunders KO, Fera D, Kwong PD, Seder RA, Bartesaghi A, Shaw GM, Acharya P, Haynes BF. Fab-dimerized glycan-reactive antibodies are a structural category of natural antibodies. Cell. 2021 May 27;184(11):2955-2972.e25. doi: 10.1016/j.cell.2021.04.042. Epub 2021 May 20. PMID: 34019795; PMCID: PMC8135257. 
Szeto B, Zanotto D, Lopez EM, Stafford JA, Nemer JS, Chambers AR, Agrawal SK, Lalwani AK. Hearing Loss Is Associated with Increased Variability in Double Support Period in the Elderly. Sensors (Basel). 2021 Jan 4;21(1):278. doi: 10.3390/s21010278. PMID: 33406602; PMCID: PMC7795333. 
Chen YA, Grimm LJ, Nedrud M, Rahbar H. "MRI Characteristics of Ductal Carcinoma In Situ." Beast MRI: Basic imaging techniques, Indications, and Interpretation. Elsevier Limited. 
Stewart JK, Perkins SS, Cline B, Kim CY. Development of a Novel Recurrent Gastrointestinal Bleeding Model in Swine for Provocative Mesenteric Angiography. Digestive Diseases Interventions. 2021 March 9. DOI: 10.1055/s-0041-1728808 
Perkins S, Drews E, Li G, Martin J. Endovascular treatment of postpartum haemorrhage in a woman with genitourinary and vascular congenital malformations. BMJ Case Rep. 2021 Mar 23;14(3):e240608. doi: 10.1136/bcr-2020-240608. PMID: 33758047; PMCID: PMC7993248. 
Schneble, C., Joseph, T., Richard, G., 2021. Medical Day: Building from a chapter's greatest assets. Pharos. 
Jayakumar P, Triana B, Bozic KJ. Editorial Commentary: The Value of Time-Driven, Activity-Based Costing in Health Care Delivery. Arthroscopy. 2021 May;37(5):1628-1631. doi: 10.1016/j.arthro.2020.12.239. PMID: 33896513. 
Makary MS, Fogler BD, Dube PP, Flanders VL, Natarajan K, Garcia-Cortes R, Foster T, Dowell JD. Ultrasound-Accelerated, Catheter-Directed Thrombolysis for Submassive Pulmonary Embolism: Single-Center Retrospective Review with Intermediate-Term Outcomes. J Vasc Interv Radiol. 2020 Mar;31(3):438-443. doi: 10.1016/j.jvir.2019.11.008. Epub 2020 Jan 22. PMID: 31982316. 
Frush DJ, Commander CW, Hartman TS, Cecil AK, Handly BD, Park DB, Fordham LA. Utilization of computed tomography imaging in the pediatric emergency department. Pediatr Radiol. 2020 Apr;50(4):470-475. doi: 10.1007/s00247-019-04564-5. Epub 2019 Dec 5. PMID: 31807854. 
Kerr DM, Middleton WD. Reflections on the Ultrasound Mirror Image Artifact. Ultrasound Q. 2020 Dec;36(4):287-299. doi: 10.1097/RUQ.0000000000000525. PMID: 32976316. 
Schwartz FR, Khawaja RDA, Marin D, Patel BN, Gray AL, Reynolds JM, Koweek LH. Split-Bolus, Single-Acquisition, Dual-Phase Abdominopelvic CT Angiography for the Evaluation of Lung Transplant Candidates: Image Quality and Resource Utilization. AJR Am J Roentgenol. 2020 Dec;215(6):1520-1527. doi: 10.2214/AJR.19.22335. Epub 2020 Oct 14. PMID: 33052735. 
Minkemeyer V, Frush D, Members of the Scientific Committee 4-9. Medical Radiation Exposure in the United States: The Big Picture in Little Ones National Council on Radiation Protection and Meas-urements (NCRP) SC4-9 Report No. 184. RSNA; 2020. 
Nedrud M, Wolfson T, Ludwig D, Fraum T, Chernyak V, Kierans AS, Burke LM, McGinty KA, Ha H, Mendiratta-Lala M, Gaur S, Aslam A, Ranathunga D, McInnes M, Makkar JS, Fowler K, Oloruntoba O, Gamst A, Cardona DM, Muir AJ, and Bashir MR. Serum AFP as a Diagnostic Marker of Hepatocellular Carcinoma in LIRADS-M Lesions. American Association for the Study of Liver Disease Annual Meeting, November 2020. 
Mutasa S, Chang P, Nemer J, Van Sant EP, Sun M, McIlvride A, Siddique M, Ha R. Prospective Analysis Using a Novel CNN Algorithm to Distinguish Atypical Ductal Hyperplasia From Ductal Carcinoma in Situ in Breast. Clin Breast Cancer. 2020 Dec;20(6):e757-e760. doi: 10.1016/j.clbc.2020.06.001. Epub 2020 Jun 7. PMID: 32680766; PMCID: PMC8207833. 
Hsieh MP, Nemer JS, Beylergil V, Yeh R. Ectopic Parathyroid Adenoma of the Piriform Sinus on Parathyroid 4D-CT and 99mTc-MIBI SPECT/CT. Clin Nucl Med. 2020 Aug;45(8):e358-e359. doi: 10.1097/RLU.0000000000003163. PMID: 32558723. 
Schmid R, Johnson J, Ngo J, Lamoureux C, Baker B, Ngo L. Development and Validation of a Highly Generalizable Deep Learning Pulmonary Embolism Detection Algorithm. medRxiv. 2020 Oct. doi: https://doi.org/10.1101/2020.10.09.20210112. 
Tamas JW, Kim CY, Tang L, Knechtle SJ, Suhocki PV. Percutaneous Splenorenal Shunt Creation in a Patient with Chronic Portomesenteric Thrombosis. J Vasc Interv Radiol. 2020 Sep;31(9):1408-1409. doi: 10.1016/j.jvir.2020.04.009. PMID: 32868015. 
 Ziegler C, Desai H, Pabon-Ramos W. "Association of Patient Specific Factors and Non-Opioid Analgesics on Opioid Use after Uterine Fibroid Embolization." SIR. Seattle, WA. March 2020. 
Cline B, Gondalia R, Kim CY. "AngioVac assisted thrombectomy and IVC filter retrieval for severe filter-associated thrombus." Finalist at the SIR 2019 Trainee case competition.
Cline B, Ronald J, Martin J, Kim CY. Feasibility of HeRO graft insertion through stent interstices: A proof of concept." Adam Zuchowski, Presented at the 2019 Society of Interventional Radiology Meeting, March 2019, Austin, Texas.
Cooper J, Morgan R. "Rethinking Journal Club: An evidence based Medicine Approach." Presented at the Association for Hospital Medical Education (AHME) national meeting in Savannah, GA on May 16, 2019, and then again at the SRHS 2019 GME Research Day on May 7, 2019.
Desai H, Borges-Neto S, Wong TZ. Molecular Imaging and Therapy for Neuroendocrine Tumors. Curr Treat Options Oncol. 2019 Aug 29;20(10):78. doi: 10.1007/s11864-019-0678-6. PMID: 31468190.
Desai H, Gondalia R, Suhocki P. Percutaneous Hepaticojejunostomy across an Isolated Bile Duct after Klatskin Tumor Resection. J Vasc Interv Radiol. 2019 Aug;30(8):1242-1243. doi: 10.1016/j.jvir.2019.01.015. PMID: 31349977.
Desai H, Mammarappallil J, Iranmanesh A, Chalian H. "Correlation Between quantitative Left Ventricular Myocardial Scar Volume and Left Ventricular Ejection Fraction in Cardiac Sarcoidosis," RSNA. Chicago, IL. December 2019.
Khandani AH, Commander CW, Desai H, Oldan JD, Wong TZ, Benefield T, Ivanovic M. Visual and semiquantitative analysis of 82Rb uptake in malignant tumors on PET/CT: first systematic analysis. Nucl Med Commun. 2019 May;40(5):532-538. doi: 10.1097/MNM.0000000000001011. PMID: 30920430.
Janos S, Schooler GR, Ngo JS, Davis JT. Free-breathing unsedated MRI in children: Justification and techniques. J Magn Reson Imaging. 2019 Aug;50(2):365-376. doi: 10.1002/jmri.26644. Epub 2019 Jan 11. PMID: 30635955.
Lewis DS, Lee TH, Konanur M, Ziegler C, Hall MD, Pabon-Ramos WM, Suhocki PV, Smith TP, Kim CY, Choi SS, Ronald J. Proton Pump Inhibitor Use Is Associated with an Increased Frequency of New or Worsening Hepatic Encephalopathy after Transjugular Intrahepatic Portosystemic Shunt Creation. J Vasc Interv Radiol. 2019 Feb;30(2):163-169. doi: 10.1016/j.jvir.2018.10.015. Epub 2019 Jan 11. PMID: 30638914.
Mittendorf A, Ngo L, et al. Deep learning model for liver MRI segmentation. ISMRM Poster Presentation, Montreal, Canada, May 12-14, 2019.
Griffin AS, Lu L, Peacock S, Gray L, Kranz PG, Amrhein TJ. CSF volume provocation maneuvers during lumbar puncture as a possible predictive tool for diagnosing spontaneous intracranial hypotension. Clin Neurol Neurosurg. 2019 Nov;186:105552. doi: 10.1016/j.clineuro.2019.105552. Epub 2019 Oct 7. PMID: 31639606.
Shropshire EL, Chaudhry M, Miller CM, Allen BC, Bozdogan E, Cardona DM, King LY, Janas GL, Do RK, Kim CY, Ronald J, Bashir MR. LI-RADS Treatment Response Algorithm: Performance and Diagnostic Accuracy. Radiology. 2019 Jul;292(1):226-234. doi: 10.1148/radiol.2019182135. Epub 2019 Apr 30. PMID: 31038409; PMCID: PMC6614909.
Shropshire ES, Schneider M, Zhang Bohui, et al. Assessing variability in MRI-based quantitative measurements of body fat in patients with NASH. Presented at ISMRM, 5/13/19.
Dixon A, Johnson K, Strickland L, Patel B, Said N. Assessing the Effectiveness of a Health Care Economics Curriculum for Radiology Residents. J Am Coll Radiol. 2019 Aug;16(8):1083-1087. doi: 10.1016/j.jacr.2018.12.040. Epub 2019 Feb 26. PMID: 30819453.
Cater SW, Yoon SC, Lowell DA, et al. Bridging the Gap: Identifying Global Trends in Gender Disparity Among the Radiology Physician Workforce. Acad Radiol. 2018;25(8):1052‐1061. doi:10.1016/j.acra.2017.12.021.
Fogler BD, Makary M, Dube P, Flanders VL, Natarajan K, Dowell JD. "Catheter-Directed Thrombolysis for Submassive Pulmonary Embolism: Retrospective review of 113 patients with 6 month follow-up." RSNA Abstract Presentation November 27, 2018.
Wildman-Tobriner B, Cline B, Swenson C, Allen BC, Maxfield CM. Evaluating Resident On-Call Performance: Does Volume Affect Discrepancy Rate?. Curr Probl Diagn Radiol. 2018;47(6):364‐367. doi:10.1067/j.cpradiol.2017.12.009.
Shropshire EL, Chaudhry M, Miller C, et al. LI-RADS Treatment Response Algorithm: Performance and Diagnostic Accuracy. Presented at: SCBT-MR annual meeting 2018; Washington D.C. – Recipient Lauterbur Award: best MR oral presentation. Presented at: RSNA annual meeting 2018; Chicago, IL. – Recipient Resident Travel Award
Willhite JP, Strickland L, McCrum EC. "From Pre-Op to Post-Op: The Radiologist's Role in the Evaluation of Femoroacetabular Impingement". 2018 RSNA Educational Exhibit
BOOKS
Textbooks authored by Duke graduates.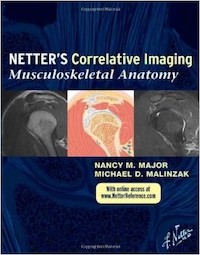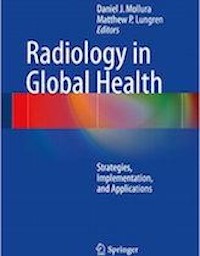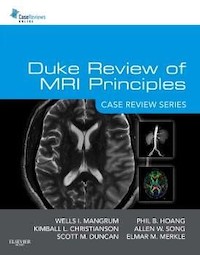 EDUCATIONAL WEBSITES
Educational websites created by Duke graduates
HeadNeckBrainSpine (HNBS): Education site designed by recent graduate
IMAGINE YOUR FUTURE AT DUKE RADIOLOGY!
We sincerely hope that you will consider joining our Duke Radiology community.
Please click on the link below to learn about our application and interview process. We also encourage you to contact us for more information about our program.