RESEARCH
CURRENT CLINICAL TRIALS
Randomized trial of CT fluoroscopy-guided targeted autologous blood and fibrin glue patching for treatment of cerebrospinal fluid leaks in spontaneous intracranial hypotension (SIH).
Duke investigators are conducting the first prospective randomized clinical trial assessing the efficacy of CT fluoroscopy-guided targeted blood and fibrin glue patching of confirmed CSF leaks in patients with spontaneous intracranial hypotension.  An outcome of equivalent or inferior efficacy would result in a paradigm shift for SIH treatment (i.e. targeted patching would no longer be considered optimal therapy). Demonstrated superior efficacy would validate this procedure leading to a substantial increase in the performance of targeted patching and would provide the basis for future research comparing its efficacy with other epidural blood patch techniques.  Patients interested in enrolling may contact our team for further information.
CONTACT:
Timothy J. Amrhein, M.D. (Principal Investigator)
919-684-7770
Assistant Professor of Radiology
Division of Neuroradiology
Department of Radiology
Duke University Medical Center
EDUCATION
UPCOMING COURSES: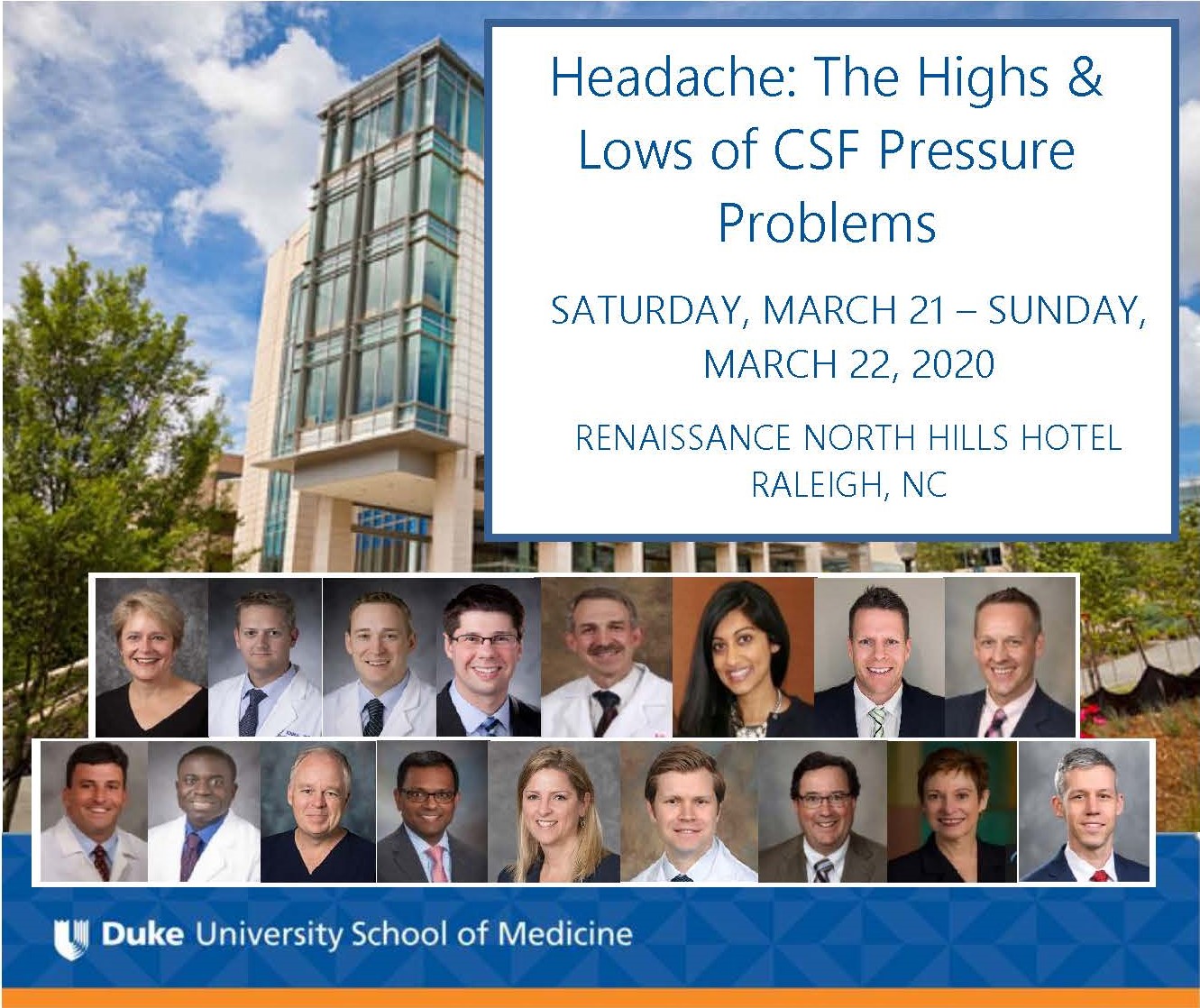 This 1½-day multidisciplinary course on Intracranial Hypotension secondary to spinal cerebrospinal fluid (CSF) leak is intended to inform local neurologists, headache specialists, and other health care professionals including neurosurgeons, anesthesiologists, neuroradiologists, and pain management physicians about the varied presentations and the current state of diagnosis and treatment for this disorder. Intracranial Hypotension can present as migraine, chronic migraine, new daily persistent headache, and Chiari I malformations and can be iatrogenic in origin as can be seen with lumbar punctures, epidural catheter placement and epidural injections. The approach to the diagnosis with CT guided lumbar puncture, myelogram, and minimally invasive techniques including fibrin glue and bloodpatching as well as indications for surgical intervention will be discussed. Invited speakers include neuroradiology, neurology-ophthalmology, neurosurgery, and orthopedic surgery. If you have cases you would like to have discussed during a last session, send cases for consideration ahead of time to Dr. Gray Leithe at linda.leithe@duke.edu. 
HOW YOU CAN HELP
Although this condition is being recognized more frequently, much more work needs to be done. With your help, we can continue our groundbreaking efforts to:
UNDERSTAND THE DISEASE BETTER
There still remain many unanswered questions about why this condition develops, how the symptoms develop and change with time, and how the process of recovery occurs after treatment.  Research requires teams of collaborators, scientists, statisticians, and research assistants, and the funding to support them.
FIND THE MOST EFFECTIVE TREATMENT
There are very few studies in the medical literature that look at the different treatment options for this condition and which ones work best.  We need this information desperately. We are currently conducting high-quality trials of treatment outcomes, but these trials are expensive, labor-intensive, and need financial support to be successful.
TRAIN MORE PHYSICIANS TO TREAT THE CONDITION
As more and more patients are diagnosed , more centers are needed to provide high-quality treatment.  Although we currently teach physicians-in-training and host visiting practicing physicians, greater funding could establish dedicated training programs such as a fellowship in this area.
EDUCATE PHYSICIANS AROUND THE COUNTRY AND WORLD
We need to educate other healthcare providers on how to recognize this condition.  One of the best ways to do this is provide education and share our experience by traveling to meetings, conferences, and hospitals as well as through educational information published in highly respected medical journals.   We have already seen the benefits of programs such as these and are often asked to consult with physicians from inside the US and around the world.  We need your help to continue this outreach.
DISCOVER
Every day we make new discoveries about this condition, and often these discoveries are unexpected.  We treat patients differently today than we did 10, 5 or even 2 years ago as a result of these discoveries.  We need help to follow these leads when they arise, as they often result in giant leaps forward in our knowledge.
DONATIONS
Sally Schatz, Director of Development
Office: 919-385-0034
Fax: 919-385-3103
Email: sally.schatz@duke.edu
Location: Duke Health Development and Alumni Affairs
300 W. Morgan St., #1200, Durham, NC 27701
Durham, NC 27701