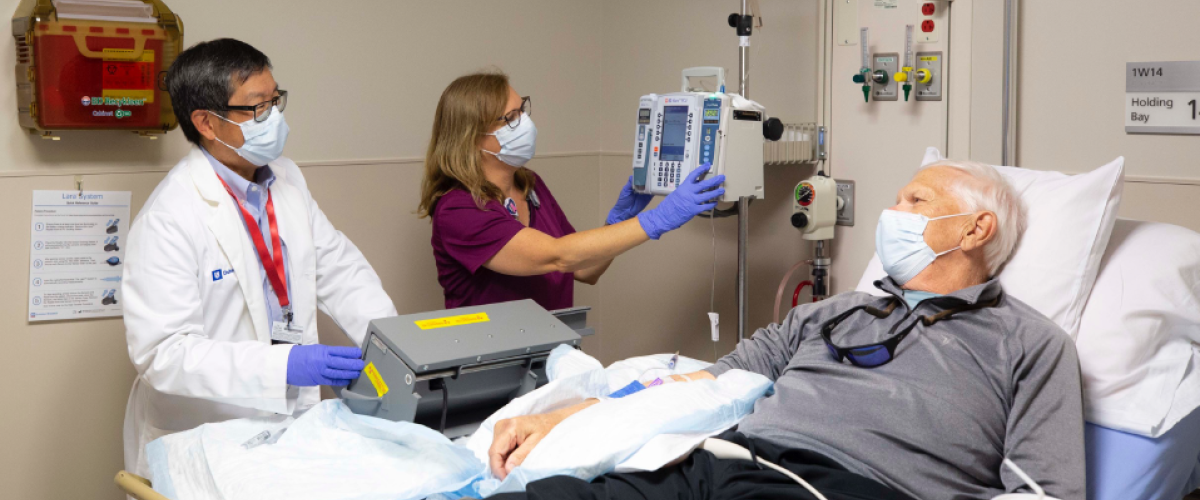 Duke Cancer Institute nuclear radiologist Terence Wong, MD, Ph., and Stacy Wood, a Duke Health nuclear medicine technologist, provides treatment to a patient. Duke is currently the leading site for treating prostate cancer patients with Pluvicto, a new radiopharmaceutical therapy.
Radiotheranostics is a form of therapy where a radiolabeled molecular probe is used to specifically target the disease (cancer). ­­­By attaching the molecular probe to a radioactive molecule (radiotracer), the potential targets can be imaged using a gamma camera or PET/CT. The radiotracer is an imaging biomarker (using a very small amount of radiation) that enables potential molecular targets to be identified throughout the body (primary cancer and metastatic disease). If the radiotracer imaging shows that enough of the tumor sites have the molecular target, then radiopharmaceutical therapy can be considered. The therapeutic radiopharmaceutical utilizes the same or a similar molecular probe attached to a radioisotope that delivers a concentrated dose of radiation to the target sites.
The Division of Nuclear Medicine and Radiotheranostics is integrated with the Duke Cancer Institute and works closely with the GI Oncology and GU Oncology subspecialty groups at Duke. Patients are evaluated for potential radiopharmaceutical therapy using a multidisciplinary approach. Historically, our Division has had a large experience with 131I-MIBG therapy and was involved with the clinical trials using 177Lu-DOTATATE and 177Lu-PSMA. Our Division is also active in providing radiopharmaceutical treatments as part of research clinical trials.
Our Division has been designated as a Comprehensive Center of Excellence for Radiopharmaceutical Therapy by the Society of Nuclear Medicine and Molecular Imaging.
  Imaging Biomarker

Therapeutic Radiopharmaceutical

Clinical

Applications

Whole-body Iodine Scans

131I sodium iodide

Thyroid cancer

MIBG Whole Body and SPECT/CT

131I-MIBG

Pheochromocytoma /

paraganglioma

Whole body Bone Scan

223Ra dichloride

Bone metastases

DOTATATE-PET/CT

177Lu-DOTATATE

Neuroendocrine tumors

PSMA-PET/CT

177Lu-PSMA

Prostate cancer

MAA (radiolabeled particles)

hepatic artery injection

90Y-microspheres,

hepatic artery injection

Liver malignancies