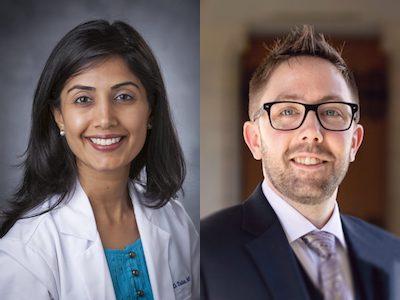 We are delighted to announce that Tina Tailor, M.D., and Kyle Lafata, Ph.D., were chosen to receive the 2021 Charles E. Putman Vision Award for their proposal titled "Smart Screen: An Attention-Guided Deep Learning Framework for Next Generation Lung Cancer Screening."
This award program is offered by the Department of Radiology to encourage research that will inform and improve the practice of Radiology, foster new collaborations between research and clinical faculty, and allow investigators to develop preliminary data that will facilitate the submission of proposals for external funding.
The research support is for up to $30,000 for a one-year project.
Drs. Tailor and Lafata and will present the results of their study in a future Grand Rounds.
Congratulations Dr. Tailor and Dr. Lafata!