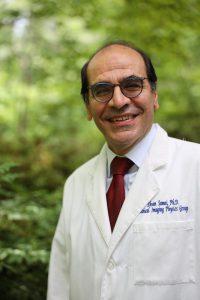 We are pleased and proud of Dr. Ehsan Samei, recipient of the prestigious 2022 Marie Sklodowska-Curie Award.

Read the full article from the International Organization for Medical Physics
"Ehsan Samei is a board-certified medical physicist and professor at Duke University, where he serves as Chief Imaging Physicist, director of the Ravin Advanced Imaging Laboratories, and director of the Center for Virtual Imaging Trials. He completed his graduate studies at Georgia Tech and the University of Michigan and post-graduate training at Henry Ford Hospital.  He has been a visionary leader and founding force behind major scientific, educational, and professional initiatives in medical physics, including the Duke Medical Physics Graduate and Residency Programs, the Duke Clinical Imaging Physics Group, the Society of Directors of Academic Medical Physics Programs, the Center for Virtual Imaging Trials, and the Medical Physics 3.0 initiative."
Congratulations Ehsan, we are so grateful you are here, making a local and global impact with your broad range of talent and passion.