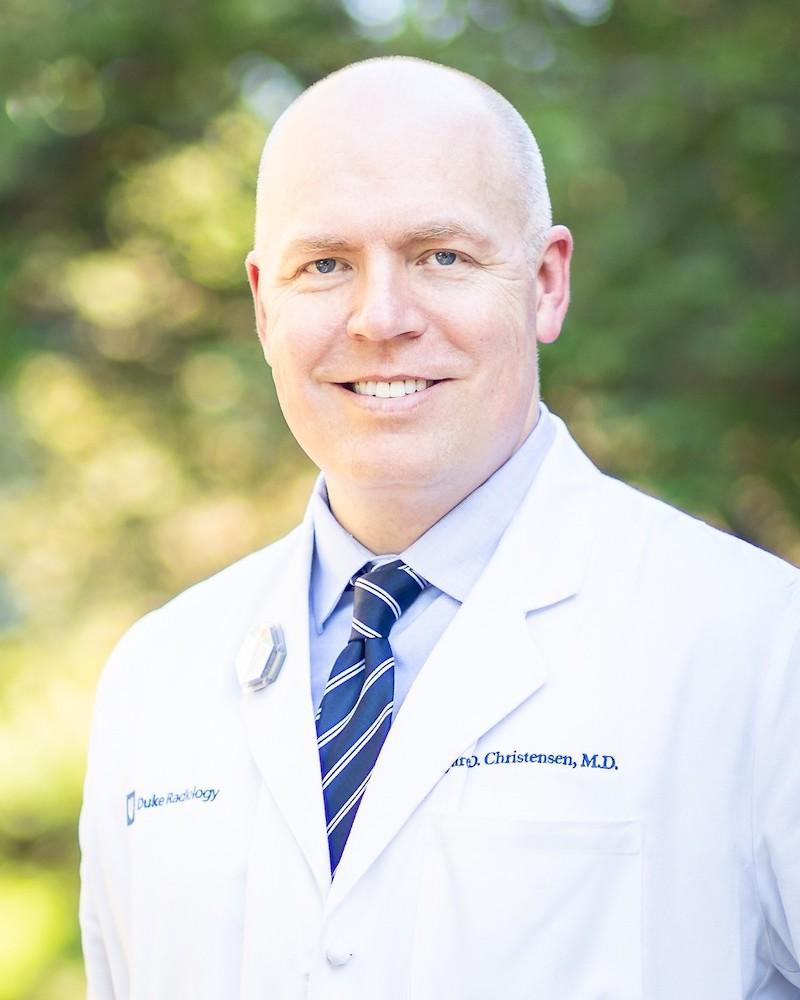 Jared D. Christensen, MD, Associate Professor and Division Chief of Cardiothoracic Imaging, has been appointed as the first Vice Chair of Strategy for the Department of Radiology. In this new role, Dr. Christensen will work closely with departmental, School of Medicine, and health system leadership in identifying, planning, and implementing strategic initiatives.
I sat down with Dr. Christensen to learn more about this new leadership position and his perspective on strategy in today's health care environment.
Congratulations on your appointment! Given that this is a new position, can you briefly explain what the role of vice chair of strategy entails?
Thank you Dara! The Vice Chair of Strategy is the academic equivalent of a Chief Strategy Officer in business. My primary responsibilities will be to work with departmental leadership in formulating strategic initiatives that will help us realize our goals as a department. This includes clarifying our vision, identifying priorities, implementing processes, and creating metrics to measure performance. As Radiology is integrated throughout the health system, I will also work closely with hospital leadership to ensure a coordinated approach in achieving our strategic objectives.
How would you define "strategy"?
Strategy is fundamentally about setting priorities and making choices that support our mission. It means delineating what we will and will not do. It involves determining how to best utilize finite resources to achieve the greatest benefit. Having a clear strategic framework assists in making consistent decisions and is critical for every departmental activity including patient services, marketing, communications, performance, recruitment, and finance.
One of your responsibilities will be to lead a strategic planning process for the department. Why is that important?
The need for a thorough planning process is critical to an organization; the consequences of inadequate or poor planning can be disastrous. As a department, we need to be forward-thinking and anticipate change. This requires a clear understanding of where we are, where we are going, and where we want to be, in addition to an awareness of external forces influencing our course. Strategic planning formalizes this roadmap through a structured process that identifies focused objectives and outlines measurable goals, typically over a 3- to 5-year period. A well-executed strategic plan is essential for guiding day-to-day decisions, evaluating progress, and directing how we respond to change.
Could you provide an example of a strategic priority for the department?
One key priority is identifying growth strategies to meet the increasing demand for medical imaging. Duke Radiology has a compelling value proposition for patients in offering advanced technology, subspecialty expertise, and high-quality care. However, patients primarily value convenience, access, and relative cost. Quality is often assumed, irrespective of who provides the imaging; therefore, 'quality' is not an effective differentiator unless we can make it a resonating focus for patients or convince them to change their priorities, which is incredibly difficult. We must therefore look at innovative approaches to bring our imaging services to patients, address their needs, and effectively position Duke Radiology as the imaging provider of choice, with high-quality care as a direct benefit.
What are current challenges facing radiology?
There are many… Radiologists face cuts in reimbursement, new insurance models, consolidation pressures, increased competition, staffing shortages, growing volumes, burnout, and rapid advances in technology. These changes result in uncertainty, but they present both challenges and opportunities. For example, with respect to AI (artificial intelligence), there is no question that data analytics and machine learning will impact the way we practice. However, with a careful strategic approach, these advances can help us become more accurate and efficient in providing exceptional care and improved outcomes. Ultimately, we need to anticipate change and develop effective strategies in responding to market pressures in shaping the future of our specialty.
I understand that you went back to school to obtain an MBA at the Duke Fuqua School of business. Why did you decide to get an MBA?
I knew several years ago that I wanted to obtain an MBA to further my personal and professional development. While extensive medical training prepared me for clinical duties, it did not prepare me for administrative responsibilities, nor provide an understanding of financial and business concepts necessary to lead and make informed decisions in today's healthcare systems. Medicine is changing; I wanted to better understand the implications of such change and acquire the skillset to effectively capitalize on emerging opportunities. Moreover, I desired a formal education in leadership that would allow me to contribute substantively to my department and institution.
That sounds compelling. As vice chair of strategy, we look forward to your continued contributions to the Department. Thank you for your time and best of luck in your new role!
Thank you so much Dara! It was a pleasure!