To initiate a new project, please complete this Study Registration Form and email to: thomas.hawk@duke.edu
FACILITY OVERVIEW
A major goal of this center is to facilitate the acceleration of scientific discovery into clinical practice. Small animal PET / CT allows in vivo physiologic and anatomic imaging in preclinical rodent models. Using high-resolution positron emission tomography (PET), we are able to image biological processes co-registered with high-resolution CT images. Quantitative, in vivo measurements of physiologic processes, can be performed in longitudinal studies.
Our Inveon PET / CT scanner allows for physiologic and anatomic imaging of mice and rats with a 1.4mm FWHM PET spatial resolution, and a 0.1 mm CT spatial resolution. This quantitative analysis can be performed on static, gated, and dynamic data.
For human and large animal PET/CT imaging services, see the Positron Imaging Research Lab.
A few examples of the potential use of pre-clinical PET / CT include, but are not limited to:
Novel PET radionuclide discovery and development
Molecular imaging to optimize drug development in pre-clinical models of disease
Interrogation of mechanisms of disease through imaging of dysfunctional pathways
Development and validation of novel molecular agents (nanoparticles, optical, CT, MRI, radionuclide, or a combination thereof) for diagnosis and therapy
Development and validation of quantitative imaging techniques prior to clinical use
Testing, development and validation of image acquisition and processing algorithms
Testing clinical hypotheses of disease in preclinical models
Quantifying disease progression at a molecular level.
Examples of PET imaging probes and the molecular processes imaged: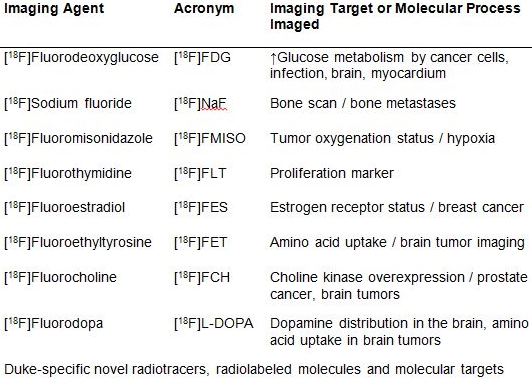 Located on the 1st floor of the Bryan Research Building (Room 0128), above the Vivarium, our research center provides accommodations for both immune competent and immunocompromised rodent models. Integrated small animal anesthesia using isofluorane, and continuous physiologic monitoring and support are also provided with our imaging service. Visualization software, supplied by the vendor, and data analysis tools are also available.
We welcome all Duke investigators and industrial partners to utilize or collaborate using this state-of-the-art technology. For more information regarding fees, please click here. To initiate a project, please complete a Study Registration Form and email to thomas.hawk@duke.edu.
For human and large animal PET/CT imaging services, see the Positron Imaging Research Lab.